Stop the Cycle of Living Paycheck to Paycheck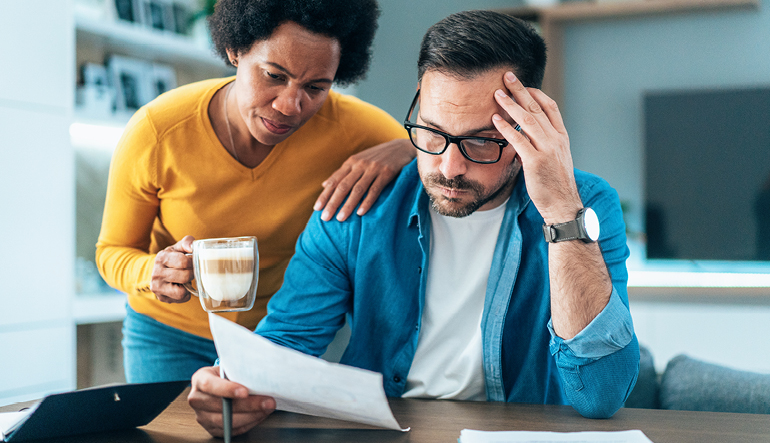 Stop the Cycle of Living Paycheck to Paycheck

For many of us, the cost of living has risen significantly due to the unprecedented inflation increase. You may find that your paycheck doesn't cover as much of your cost of living as you'd like, resulting in living from paycheck to paycheck. Here are some simple steps to help break that cycle.

1. Learn to Budget
You may think that living on a budget means you need to deny yourself from things you enjoy, but this isn't true. A well-designed budget is the best path you can take to reach your goals and achieve financial independence without having to make many sacrifices in your personal life. Begin with understanding your income, as this will help you determine what you can spend and save each month. Always keep in mind the golden rule of budgeting: "Expenses should never exceed income." When calculating your income, be conservative, as you may not work as many hours of overtime or receive a bonus at the end of the year. You can review last year's W2 to see what your reported earnings were to help you accurately determine your income. The next step before setting up your budget is to track all your spending as you normally would for a month, then make adjustments based on your discoveries. You can create your budget on a notepad, a spreadsheet or even an app. For more insight about tracking your spending, see our blog post, "How to Track Your Spending in Today's Modern World."

2. Cut the Big Expenses
After reviewing your expenses for a month or two, you will have a clearer picture of where your money is being spent for both your essential and non-essential expenses. Essential expenses are day-to-day items that you need to survive, like rent or mortgage payments, food, gas and utilities. Non-essential expenses are payments on items that are "wants," like entertainment, dining out or vacations. You will have more flexibility with cutting back on non-essential expenses. For example, if you currently eat out three times a week, you could cut it down to once a week. Here are some other ways to reel in the expenses:

Streaming services - Cancel the ones you don't use much. According to

Deloitte Digital Media

,

the average American subscriber has four paid streaming services. You can save a lot of money by canceling these non-essential expenses, as subscription costs range from $5.99 to $18.99 per streaming service.

Mobile phone plan - It's a competitive market, so always be on the lookout for a cheaper service plan, perhaps one that offers a family plan or special discounts for your employer.

Gym membership - Cancel it if are not using it. There are many free workouts offered online that will help you save money. Additionally, inquire if your employer offers health reimbursements for gym memberships or weight management classes.
Entertainment:

Discover less expensive concert tickets or attend a free concert offered in your local community. Check out your city's website for concerts in the park or upcoming community events.

Rent a movie instead of going to a movie theater.
Groceries:

Plan your shopping at discount grocery stores that often carry similar items that you may find at major chains or at wholesale stores and purchase items in bulk.

Utilities:

Switch to energy-saving lightbulbs and only wash full loads of clothes and dishes.

Turn down your thermostat during winter and up in the summer, even a couple of degrees can make a difference.

Do an energy audit if you have old appliances that need replacing.

Insurance:

Shop your current policy with other carriers, review your current deductible and drop extras you don't need.

Review combining home and car policies for a multi-policy discount.
3. Build a Savings for Unexpected Expenses
Having even a little bit of money saved for unexpected expenses can help you immensely in times when you need it most. You can start by taking money out of each paycheck by setting up automatic savings plan. You can schedule money transfers from your checking account to go to your savings account every month. Even if you begin with just putting away $50 per paycheck, you will start to feel more confident about handling your money. Next, create your initial emergency fund, which should have the equivalent of one month's pay in the bank. As your savings grows, you can begin building a larger emergency fund. One rule of thumb is to save at least three to six months' worth of expenses in an emergency fund. Having an emergency fund is important to stop living paycheck to paycheck in the long term since you will not have to rely on a credit card to pay for an unexpected expenses. After you have built an emergency savings, you'll have more peace of mind for handling life's unexpected challenges.
Be sure not to touch your savings after you begin setting it aside. Consider putting your money in an account that you can't touch at all, like a certificate account. Place your funds in a stable, secure account with SDCCU!
Check out our high rate certificates accounts
. If
you need help with starting your rainy day fund, review our blog, "
5 Ways to Grow Your Savings
."
4. Get Out of Debt
Monthly debt payments are the biggest money draw when it comes to cash flow or saving, as debt robs you of your income. Once you pay off your debt, you will increase your cash flow and have more money for your financial goals, whether it is to save for a car or prepare for retirement. Realistically, you won't get out of debt if you continue using your credit cards. According to the
Federal Reserve Bank of New York
,
the U.S. hit a record in card debt of $986 billion in December 2022―an increase of $61 billion from the previous quarter and $130 billion year-over-year. The average credit card interest rate is 24%, a new record high according to
Forbes Advisor's weekly credit card rates report
. It's easy to fall into a debt trap, that's why experts recommend that you should stop using your credit card until you are completely out of debt.
For more techniques on eliminating debt see our blog, "
3 Straightforward Strategies for Repaying Debt
."
5. Make More Money
Here are some strategies to earn a larger paycheck:
Volunteer For More Hours:

If you have an hourly job, you can see about working more hours to increase your paycheck. See if your manager has an extra shift you can pick up or offer to work overtime.

Apply For a Promotion:

Figure out what specific position you are interested in doing and begin brushing up on the skills required to qualify for it.

Demonstrate to your manager that you can handle more responsibilities by exceeding expectations in your current role and receiving glowing performance reviews.

Find a Better Paying Job:

Take your time researching new positions and look for one that will make you and your wallet happy. It is easy to get caught up in the salary - many successful people say the secret to their success was working at a job they loved and where they enjoyed putting in the hours.
6. Side Hustles
If you are not able to earn more at your current job, there are many other ways to make extra money, such as:
Work a Second Job

If you currently have a 9:00 am to 5:00 pm position, you can look for one you can do in the evening or on weekends. If you need a more flexible schedule, possibly consider something like food delivery or driving for a rideshare service, which allows you to set your own hours.

Sell Your Personal Belongings

You can sell lightly used items you don't use anymore, like clothes that no longer fit or a mountain bike you lost interest in. Consignment shops and online resale sites make it easy to sell those items for extra funds.

Living paycheck to paycheck can be exhausting and stressful. Applying this information will give you a leg up on your finances, allowing you to save your money, grow your wealth and work toward achieving your financial goals. If you are looking for a safe haven for your money to grow and would like to discuss the best options for your financial situation, please visit one of SDCCU's branches, and they can help you with your financial needs.

Visit our Financial Knowledge Blog to learn more tips on setting up a solid financial future and join us for Financial Wellness Wednesdays.